'AA' Division
Directors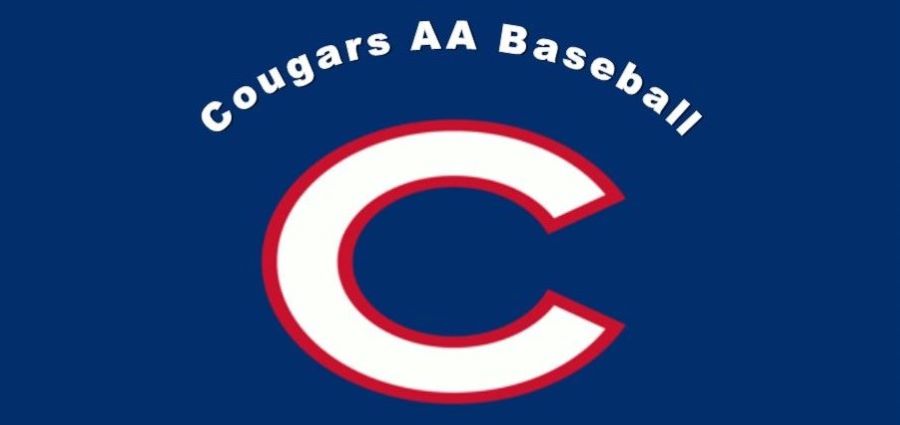 Cougars AA Baseball
The Cougars AA Representative (Rep) Baseball program is committed to providing players of Camrose Minor Baseball Association (CMBA) an avenue to play competitive ball at a higher level. These teams will be entered in the Baseball Alberta AA Competitive league to play teams that come from across the province. CMBA in alignment with Baseball Alberta's objective for the Provincial AA League, is to provide a competitive yet developmental level of play for players/teams at the 11U, 13U, 15U and 18U age categories in a province-wide format. Provincial AA leagues will operate on a 3 round seeding basis with teams playing in a Regional format in May, a North/South Divisional format in June, and a Provincial Tiering format in July. Provincial Championships will be hosted at every tier between the last weekend of July and first week in August.
As an association, we feel the importance to foster an environment that strives for high end development through hard work and positive competitive spirit. In our AA program, players will not only work to improve upon the skill set necessary to play the game at a competitive level, but also learn and experience the benefits of dealing with adversity, improving one's physical fitness, and having dedicated focus on achieving goals in sport. Our expectations for players, coaches and parents representing our program, is to exhibit a high degree of sportsmanship, teamwork, respect and positive attitude at all times.
Playing AA Rep baseball requires that certain commitments be made. These major commitments are time, travel, and financial (which can be reduced via fundraising efforts by individual teams). With approx. 11 - 14 players per team, all players are expected to attend all practices, games, and team functions as reasonably practicable. If families are taking extended vacations or have high commitment levels in other sports or activities this should be discussed prior to evaluations with the Rep Division Director and/or Coach. We do not want to take away a roster spot from a full-time player for a player that can only play part of the time. Failure to fulfill commitments by any player or parent will result in a review of that players privilege to play in the AA Baseball program.
What are you Committing to?
2 to 3 weekday Practices/week.
Weekend games, exhibitions and tournaments.

Usually 2 to 3 weekends per month. The Baseball Alberta calendar link is on our website. It shows you the weekends that you will be playing, but you may not know where you are playing until a week prior.
Season runs from May through to July and possibly August Long weekend.
Teams earning a spot in Tier 1 Provincial Championships also have an opportunity to play for a spot in the Western Canadian AA Championships.

Independent Tournament Play.

Typically, teams will play in two to three additional tournaments outside of the scheduled league play.
These tournaments are normally held over May long weekend and a weekend in June/July (dependant on league schedule).
Additional early bird tournaments are also a possibility in April or early May.

Travel throughout the province.

Schedule and locations will be determined by Baseball Alberta.
Baseball Alberta does their best to reduce travel when possible and give opportunities for teams to take turns hosting.
Most of the travel in the first 2 rounds of league play are usually closer to home. As the season progresses you will likely have to travel farther because your team will be placed in a specific tier (tiers are used to even out the talent pool in order to play teams of equal talent).
Distances for provincials will vary as host locations can be anywhere in the province.

Fundraising

As a member of the Rep Baseball program it is expected that team players and parents raise funds to offset costs in the season.
The level of fundraising is determined by the team based on the interest by parents.
Associated Costs
Your initial CMBA registration fee (taken at the time of registration) will cover basic expenses related to playing ball for our organization such as insurance, basic equipment, practice time, etc. Once placed on a Rep team (after evaluations) an additional fee will be collected by the team. These fees are utilized to offset the cost of additional facility rentals, umpires, Baseball Alberta AA team and player fees, tournaments, team apparel and any other specific team costs. Teams are required to prepare their own budgets to cover the expenses related to additional costs. This is most commonly done through a cash call from the team treasurer to parents and can vary from team to team. Fundraising should be used in order to help reduced those costs. The amount of fundraising activity will have a direct impact on the final cost per player to the families. Failure to fulfill team financial commitments by any family "can" result in a removal of that players privilege to play in the Baseball Alberta Provincial year end Tournament. This is at the discretion of the team Head Coach and/or coaching staff along with the Team Manager.
Initial CMBA Registration Fee: **see registration page** (depending on age). Plus tryout fee
Cougars AA Competitive Team Fees: estimated appr. $250 - $400 - Collected by Team Treasurer on top of the registration fees.
Team Uniform
Once teams are selected, they will be assigned team Jerseys for which a post dated cheque will be required as a deposit and will be forwarded to the CMBA Equipment Director to hold until the return and inspection of the jersey.
Outside of the required standard baseball equipment (bat, glove, helmet & personal protection), Selected Individual Players will be responsible for the following:
Mandatory White Baseball Pants
CMBA approved Cougars hat
Belt & Socks to match team designated colors
The Player Evaluation Process *A Tryout Fee is included in the CMBA AA Rep Registration fee*
In March/April, players who have registered for the Rep Baseball program and are willing to make the commitment necessary, will be required to attend the evaluation sessions for their registered division. If a player is not registered prior to tryouts, they will not be allowed to attend the evaluation process. The evaluations (tryouts) are conducted under the direction of the CMBA Board and independent evaluators. Evaluations will be based on the players age category, skill, development potential, perceived dedication, sportsmanship and coachability. This enables the player to be placed at the skill level that is appropriate for them.
The Evaluation Policy is posted on the CMBA website if you wish to reference it for information on the Evaluation Process.
Once the evaluation process is over, team rosters will be placed on CMBA's website http://www.camroseball.com. If a player is not chosen for a AA team, that player will be assigned to the House League evaluations for placement onto a team. Any import players not selected will be reassigned to their home association.
Coaching
Coaches will be chosen based on the applications submitted to CMBA and the Coach Selection Policy. We strongly encourage parents to take an interest in coaching as it is an integral part of our ability to field teams.
All CMBA coaches are required to meet requirements in alignment with Baseball Alberta. Coaching certification courses will be made available in March/April/May prior to the start of the season. For more information regarding coaching certification you can find it at:
http://www.baseballalberta.com/content/nccp-requirements
Code of Conducts
As players, coaches and parents you will be responsible for reviewing, signing and ensuring you're familiar with:
Parental Code of Conduct (one Parent or Guardian must review and sign)
Player Code of Conduct (to be review with and signed by the player)
Coaches Code of Conduct (reviewed and signed if you are either the Head or Assistant coaches)
Rep Directors
The CMBA Rep Directors will be responsible for setting up and overseeing the Rep Program throughout the season. Responsibilities include, but are not limited too, helping in the coach selection process, providing team direction, conducting and assisting through the evaluation process, addressing disciplinary issues, parent concerns and general complaints. The Rep Directors are dedicated to ensuring the guiding principles and the general philosophy of CMBA is followed by all players, parents and coaches.